Ford Gt Owner
Mark II Lifetime
so I needed to practice my clear bra technique and get used to working with expel since it is the film most are putting on their new GT. What better way to practice than on another car. This time I chose my SLS to be the guinea pig. I did the full front of the car including full fenders hood mirrors and bumper. somehow they forgot to send me the headlights but Ill get that done at a later date.
the hardest part was the bumper, other relatively flat pieces were not too bad, there is definitely a learning curve on using the material. I think the 3M stuff is better, at least it goes on easier but, the healing properties of expel that everyone talks about has me interested so I guess time will tell.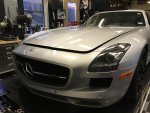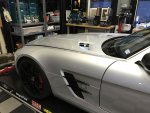 it came out ok Im happy with it, and it was good practice for later...