GT Owner
Mark IV Lifetime
Hey guys, I was fortunate enough to get a ride in the new Ford GT Mark II last Sunday during Monterey Car Week.
Billy Johnson was piloting, and it was a thrill to not only ride in this unrestrained track weapon but to do it with Billy at the wheel.
He and I first met during the new Ford GT press intro at Utah Motorsports Campus in April of 2017. He got his first drive in a 2005-2006 Ford GT (mine!) during that event, and we've been swapping social media messages ever since.
Great driver and human being! We even walked the Pebble Beach Concours later on Sunday (his first time there). Anyway, here's the Forbes story on the experience, along with some video I strung together. I had no camera crew to back me up, and given that I'm pretty thrilled with how well the video turned out.
The Ford GT Mark II is both lighter and more powerful than the IMSA cars that share its chassis, thanks to no "balance of performance" restrictions, making the Ford GT Mark II far more capable than even the Ford GT race car that won the 24 Hours of Le Mans.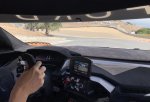 Last edited: