GT Owner
Mark IV Lifetime
This post has been a long time coming and it was my hope that it would be documenting a problem and ending with a solution. Sadly, I'm not certain that is the case.
Having taken delivery in March of 2020, I quickly began racking up miles on my GT. Even with near total Covid shutdown I was able to log nearly 4K miles by Rally 13.
Shortly before Rally 13, I attended the Shelby Bash in Las Vegas. It was there that I started to notice clicking noises on both of my front wheels. The harder the wheel was turned, the louder the click, and the faster the wheel rotated, the faster the occurrence.
With my car staying out west until Rally 13, I planned to have it looked at after the rally. On the track during the rally, the noise became increasingly noticeable and even scary at speed. It was at this point I decided to leave my GT at Sanderson Ford for diagnostic and repair of this and a surging issue (which Ford has developed a reflash but is still undergoing testing).
The first couple of months involved parts swapping under the direction of Ford/MM. During this time, the following parts were replaced: hubs, tie rods, ball joints and steering rack all to no avail. I kept insisting that the lug nuts, and how they interface with the rim, be examined. I returned to Scottsdale in January for Barrett Jackson and at this time I visited the dealership and inspected the Ti lug nuts and rims. I noticed unusual (and minimal contact) wear patterns (pics attached) on my lug nuts compared to other GTs in for service. My car has Ti lug nuts on alloy rims. Ironically, I followed another forum member to the dealership to have his car serviced and noticed the same clicking noise on his wheels as well (his car has Ti lug nuts on carbon rims). At this point I insisted a set of steel lug nuts be installed on the front rims, and voila, the noise immediately disappeared. After several days of driving I did noticed the noise return. This time however, we checked the torque and found that value reduced. It was my assumption that previous galling had damaged the rims to prevent them from holding proper torque.
By March, the decision to "level 3" my car had been made and it was sent back to MM. Unfortunately, upon its arrival the car was rendered undrivable due to a defective steering rack being installed. To further ad to delays, another rack couldn't be sourced so my original rack had to be found in the used parts bin back at the dealership in Arizona, then shipped to MM to be reinstalled. As luck would have it, Canadian customs decided to detain my original steering rack for another few weeks. Finally by early summer, my car had its original rack reinstalled and road testing up north began. MM was never able to reproduce the noise on my car so attention was then turned to the other car back at Sanderson still exhibiting the noise. After many weeks of similar parts swapping on that car, I insisted again that the lug nuts and interface be closely examined. I asked about thread depth, thread taper, Ti tapping techniques used, galling, and potential issues with dissimilar metals being used (specifically due to the resilience of Ti).
Eventually, it was acknowledged that galling was occurring and a reference was made to an early-on assembly procedure of applying a dry-moly lubricant to the mating surfaces of Ti lug nuts upon every time they are reinstalled. It was also stated that the dealership omitted this procedure which resulted in the clicking noise. The only problem with that theory is, my car never went to a dealer, or had the wheels removed, or been re-torqued before the noises started. So either the lubricant wasn't applied during assembly or it wains over time. Also, as an owner, this was the first I had heard of that necessary procedure on the GT (or any other car for that matter). This solution doesn't sit well with me, as I feel that it is merely masking the problem and I still have doubts about the amount of contact area, dissimilar metals, and machining techniques used on the Ti lug nuts.
So today, after my car being away from home for over a year, I finally said just send it home. My hope was that this process would save others the delays I've experienced. Please let me know if anyone else is noticing this issue and please be aware of the necessity of adding dry-moly lubricant to your Ti lug nuts every time you re-torque them.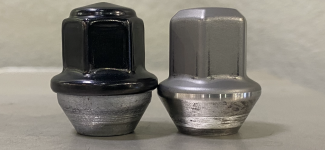 Last edited: