GT Owner
Mark II Lifetime
Maybe a silly question, but I think that even the GT's car cover attracts attention, unwanted in my case since I'm wanting to park mine at work during the day for a few hours, with a cover on it, but not a cover with
racing stripes
and
FORD GT
on it
... So I'm looking for a cover that won't harm the paint, mostly to hide the GT from eyes, but also protection from the sun. This scenario isn't going to happen often, but I like the idea. Not that a 44" tall sports car, under a cover of any kind, isn't going to attract some attention anyway. But hiding the bright red, the white stripes and shiny wheels might help some.
Anybody have any suggestions?
Something plain looking like this
https://www.covercraft.com/us/en/product/custom-ultratect-car-cover.C-CCUT?COLORID=UG|CCUT
... although I know nothing of its quality.
Reminder of the OEM cover (please disregard my garage ... it's a work in progress, and now that I look at it from an outsider's standpoint apparently I can't just focus on 1 or 2 things):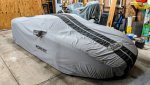 Last edited: