GT Owner
Mark II Lifetime
Le Mans 2010 Supporter
In August I purchased the Brazilian GT3 championship winning car , I thought some of the forum members would be interested in the reconditioning process , so I am starting a thread documenting the process.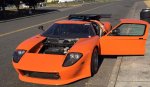 Car arriving in Blaine WA before it went thru customs at Canadian border , I used Plycar transport and the service and pricing was excellent.
I had a friend of mine inspect the car in Florida prior to purchase and knew that cosmetically the car was in used race car condition. Once I got the car back to my shop in Vancouver I realized I would need some body panels as many had been repaired poorly.
The front bumper assembly had also been hit on the left side and would need replacement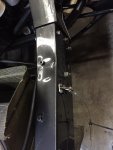 The drivers door had been hit and the inner door shell had broken away
I contacted Sascha at Matech and ordered a complete front end and all the inner wheel wells and some assorted brackets.