The Favor Factory™
Staff member
Le Mans 2010 Supporter
You've stayed home long enough. Let's get it on.
Dates
Sunday October 31, 2021
thru
Wednesday November 3, 2021
Host Hotel
Hyatt Regency Scottsdale Resort & Spa at Gainey Ranch
7500 E. Doubletree Ranch Road
Scottsdale, Arizona, United States, 85258
Hotel booking:
Click me to book
The Track
Apex Motor Club
22408 N Ralston Rd
Maricopa, AZ 85139
APEX Motor Club is a world class private race track in Arizona with luxury car condo's, country club amenities, and exclusive racing events for motorsports enthusiasts. A limited crowd for unlimited speed.
apexmotorclub.com
REGISTER NOW BY CLICKING HERE
Ford GT Rally XIII will take place in Scottsdale, Arizona. Official events commence the evening of October 31st and our final dinner will be on Wednesday, November 3rd. This means bug out day will be the 4th so you should book your room to depart Thursday the 4th.
After the unfortunate cancellation of this event in 2020 due to the Coronapocalypse, we're finally actually doing it. Ford GT Rally is back, and in 2021 we'll be in Scottsdale, Arizona. It's been 5 years since the Ford GT returned and took GTLM victory at Le Mans. In just a few months, it will have been 15(!) years since the last 2006 GT rolled off the line. By the time we meet in Scottsdale, we'll have just over 1 year left of the 2017+ Ford GT production run. Time flies, so let's get together and have some fun.
We'll be staying at the exceptional Hyatt Regency Resort and Spa at Gainey Ranch, enjoying the perfect time of year in Scottsdale. We've booked a full day of track time at the new Apex Motor Club, one of the premier new club tracks in the nation. For our 2021 Concourse, we'll line the green grass of Fountain Hills Park with the spectacular 300+ foot tall fountain as our back drop. We've got some great scenic driving planned in the areas surrounding with some of the world's best cars. And of course, as always, we'll have some of the world's best people, including members of the Ford GT Program, old and new. On that front, I'm particularly excited to tell you that Multimatic President and COO Raj Nair will be in attendance as our special guest.
It should be a great time. First 100 Ford GT owners to register are in. Hope to see you there!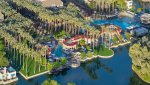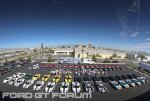 Last edited by a moderator: