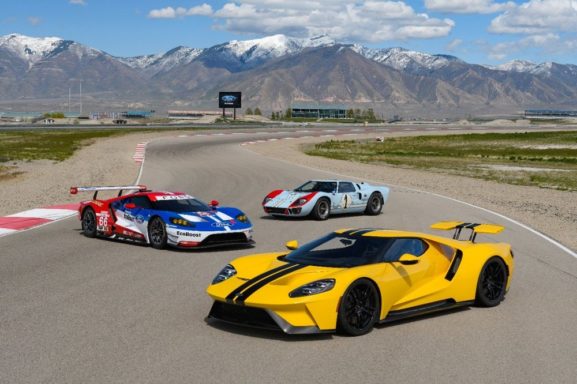 On behalf of Ford GT owner and Ford GT Forum member Aaron Shelby, please see the special invitation below to the 2020 Team Shelby Bash. Team Shelby and Ford Motor Company are inviting Ford GT owners to the 2020 Team Shelby Bash in celebration of an American Icon! Can you imagine the sight and sounds …
A special invitation from long time Ford GT owner and Ford GT Forum member Lance Miller to attend the 2020 Ford Nationals at Carlisle.
The deadline for new Ford GT applications has arrived, and with it came a slew a Ford GT application videos. In no particular order, here's a random selection for your entertainment:
United Way Auctioning 2019 Ford GT 'Gulf' Heritage Edition VIN 001, Tapping Racing History to Improve Lives Today Ford is donating proceeds from the sale of the 2019 Ford GT Heritage Edition with limited-edition Gulf Oil racing livery to United Way for Southeastern Michigan; the car will be auctioned at the Barrett-Jackson Collector Car …
Enjoy these beautiful images courtesy of Ford Chip Ganassi Racing of the updated 2018 Ford GT race livery. Sporting the same graphic theme as in prior years, the 2018 IMSA and FIA cars will now feature production colors Liquid Red, Lightning Blue and Frozen White. Looking good!
Welcome to the 2017+ Ford GT Registry. Vehicle owners may submit their information in the scrollable field below. Completed entries are visible in the field that follows. You may expand the registry viewer on your desktop, as well as sort by any combination of the available Ford GT options.
Exterior Color: Frozen White Interior Theme: Dark Energy Stripes: Lightning Blue Wheels: 20″ Forged One-Piece Aluminum (Silver) Calipers: Red Exterior Carbon: Shadow Black Options: Delivery Date: August 27, 2017 FordGTForum: rsstopper
Exterior Color: Shadow Black Interior Theme: Launch Control Stripes: Orange Wheels: 20″ Exposed Gloss Carbon Fiber Calipers: Orange Exterior Carbon: Shadow Black Options: Delivery Date: ~May 22nd, 2017 Selling Dealer: Galpin Ford Original Owner: Jay Leno
Exterior Color: Victory Interior Theme: Lightspeed Stripes: Victory Wheels: 20″ Exposed Matte Carbon Fiber Calipers: Red Exterior Carbon: Matte Exposed Carbon Fiber Finish Options: Original Owner: Mark Fields