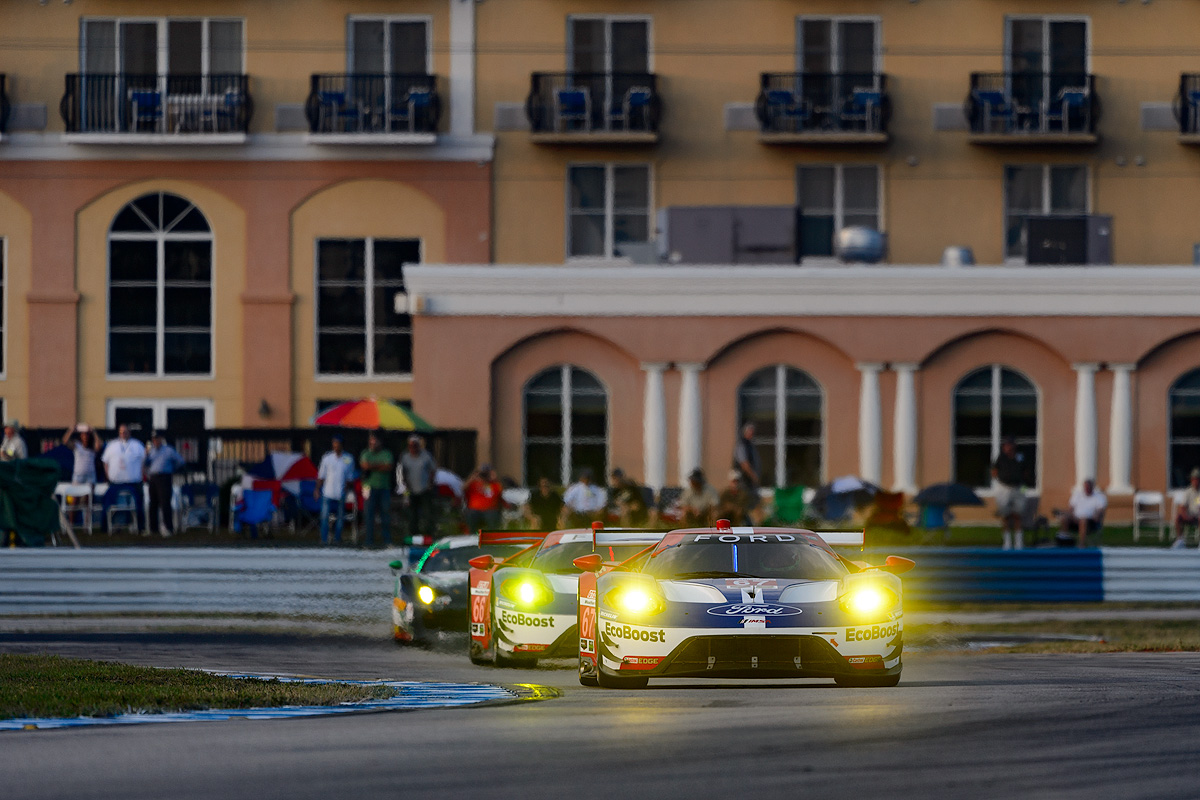 The second race of Ford's nascent GTLM campaign provided a much more satisfying result than the first.
Ford Performance & Chip Ganassi Racing eliminated the frustrating reliability issues suffered at the Rolex 24, and brought their two GTs home with respectable P5 and P8 finishes.  There was no evidence of either the transmission or electronics gremlins that dogged both cars from the start in Daytona, despite frequently running in extremely wet conditions.
The #67 driven by Ryan Briscoe, Richard Westbrook and Scott Dixon remained in contention for a podium finish until Westbrook went off the racing surface in turn 1 with less than 10 minutes to go. His off dropped the car from 4th to 6th, but he managed to claw back one more spot in the remaining laps.
"It's night and day, compared to Daytona," noted Westbrook. "It's really good for all the guys on the team to have a good, cleanish race. I had no car issues. We've learned a hell of a lot. I think we have a long list of stuff we can improve on."
Dixon had a particularly good stint, with the IndyCar veteran at one point keeping the GT in P1 for an extended period of time while pulling away from the pack.
The #66 of Joey Hand, Dirk Müller and Sebastien Bourdais suffered from unfortunate timing when the race was red flagged for bad weather just moments after Müeller hydroplaned off the track and stuffed the GT into the tire wall.
"We got a little unfortunate break," said the German. "It just went too long when it was not drivable anymore. Finally, I just hydroplaned off of Turn 1. I had no chance to do anything there.  You could see how good the car was. We only lost a couple of laps. We got unlucky because just after, we got a red flag. It was just a few seconds too late."
Ford Executive Vice President Raj Nair was pleased with the improved reliability.
"The cars ran clean, mechanically, so we're really pleased about that. We didn't have any repeat issues from Daytona," Nair said.  "We've got some more things to work on, but the cars ran reliably which at a track like Sebring is quite an accomplishment."
Nair was also happy with the overall performance of the GTs, saying "On the speed front, both cars had good pace and the No. 67 Ford GT led quite a few laps, finished on the lead lap and had a real shot at the podium, so we are also happy that the car has the speed to be competitive. There are a few things we know we want to work on to keep improving our performance and achieve better and better results, but overall, it was a good outcome."
The GT returns to competition next month in southern California for the Grand Prix of Long Beach.  Hopefully Ford Performance and CGR can now build on the reliability they showed at Sebring and move closer to an inaugural win.