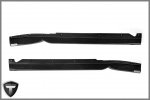 Tecnocraft Ford GT Rear Dry Carbon Side Diffuser
The Tecnocraft Ford GT Carbon Fiber Side Diffusers were designed to accentuate the long wheelbase and adds down force by creating a wider base platform which results in a higher vacuum condition at increased speeds. It's a well known design principle in professional racing that we have been able to apply to the Ford GT. Using the exact same manufacturing process as the Tecnocraft Ford GT Front Splitter/Diffuser, the Side Diffusers are lightweight and sturdy pieces designed to withstand the highest speeds and flows very well between the front splitter and rear diffuser. If we felt that the factory piece was sufficient, we would not have spent the time to engineer and produced these.
Tecnocraft on the Ford GT program
Produced to the highest standards, The Tecnocraft Carbon fiber program is very different from most other Carbon Fiber products available. Made entirely of Pre-Preg Composite, our carbon fiber pieces are often described as "artwork for exotics." Our highly skilled team of fabricators and designers pride themselves on the years of experience building trophy winning race cars in prior lives and being able to apply it to everyday road going exotics here with Tecnocraft. With a strong team of former professional race car fabricators, you can expect Tecnocraft to give more consideration to weight reduction and strength than pretty much anybody else in the industry. Everything made here at Tecnocraft, is 100% made here in the USA.
The Tecnocraft Ford GT carbon program is unmatched by anything offered by the competition. Using the best pre-preg carbon fiber materials available, Tecnocraft only produce pieces to the highest standards. The Ford GT is a truly exceptional vehicle. In our opinion, the Ford GT is one of the best cars to be born out of Detroit. A vehicle with such a strong racing heritage deserves nothing less than the best available pre-preg carbon fiber.
PM FOR SPECIAL FORD GT FORUM PRICING!!!!!​