Several threads already, one more for your quick reference on the whole kit and caboodle.
Today, canisters on 2 GTs were replaced via a house call by the local dealer, two (2) techs came over. Few notes and pictures:
Battery does not have to be disconnected.
No way you can remove the passenger side canister without removing the lower dash panel and the supporting bracket behind it.
Passenger side canister factory yellow wires must be cut to remove it once the whole assembly is removed from the car, new canister is smaller in diameter so black caps on each side of the canister are installed as a "shimmy" and a bracket on top is screwed in for support. New canister wires connects and disconnects without cutting (new design).
Recals and ford Program:
Ford Recall: 15S21 Driver side air bag inflator.
Ford Recall 16S26 Passenger side air bag inflator.
Ford Customer satisfaction program 14B009 regarding F-GT airbag inflators replacement at owner's home.
Prep work:
Driver side removal and canister (yellow tag is old, white tag is new):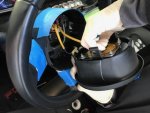 Passenger side and canister (dark gray is old, silver canister is new)