*UK Support*
Supporting Vendor
As you all probably know Ford discontinued the wheel centres for the optional lightweight BBS multispoke wheels some time ago.
We see a lot of cars with corrosion under the clear lacquer so have been looking for a solution.
We now have had replacements produced in the UK - these have been tooled up to be faithful replicas of the originals.
They are supplied as just the outer emblem - you'll need to pry the old ones off the plastic centre with a flat blade screwdriver and fit these by bending the eight tags over.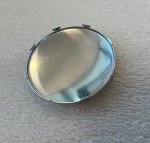 We're selling them as a set of four as it doesn't make sense to ship individual pieces.
We've added them to our online store so you can order direct from here:
https://gt101.store/collections/ford-gt/products/wheel-centre-emblem-set
We've also listed a few other GT parts online now such as our sway bar bushes and dust boots.
Any questions just let me know.