GT Owner
Mark IV Lifetime
This past week I was fortunate enough to spend time with three generations of Ford GTs in the production of multiple stories for Kelley Blue Book, Autotrader, Forbes and The New York Daily News. The stories should go live in the next few weeks, complete with professional video and photography. My early peak at the photos and video confirms the visuals will be stunning. We're talking full video crew, drone footage, beautiful setting, permits, cops to control traffic, the works. I'm including two small images here as a sneak preview and to avoid pre-empting the full stories. There are literally hundreds more of these professional photos from an industry ace photographer showing the cars both individually and in stunning group shots.
The rest of these images are, quite obviously, my doing with an iPhone. Not nearly as good but they tell the story of this past week. Unlike the format for those other publications I feel like I can go into details (minutiae?) on this forum the average reader might not have patience to slog through.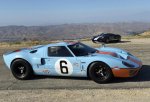 First, the background on the cars. Included in the trio was a Superformance GT40 replicating the 1968 LeMans winner. If you're not familiar with Superformance and/or assume any GT40 not produced before 1969 is a "fake" let me provide some background. Superformance is licensed to produce these cars by the current owner of the GT40 trademark. The cars have been signed off by Carroll Shelby as accurate GT40s, and the serial numbers continue from the cars made 50 years ago. Over 90 percent of the body, chassis, suspension, interior and drivetrain will seamlessly bolt between a Superformance GT40 and an "original" GT40. I don't pretend these cars are just as special as the original GT40s with real race pedigrees and/or private ownership for multiple decades. They cost between $150,000 and $200,000 versus the $2 million "real" GT40s start at. But I wanted to emphasize that the physical aspects (inside and out) as well as the driving dynamics are dead-on accurate. These cars can have air conditioning and even an automatic if the customer wishes (our test car had the former but, thankfully, not the latter).
Second, a 2005 Ford GT in Midnight Blue with three options (NO MAC!) that turned over 31,000 miles during the shoot. I've owned this one since it had 7 miles on it. Everyone on this forum knows these cars, so 'nuff said.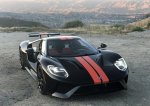 Third, the 2017 Ford GT West Coast press car, owned by Ford. The car had 7,500 miles on it during our test. Everyone on this forum knows these cars too.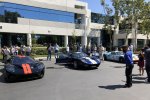 The process started at the Kelley Blue Book offices in Irvine, California. Knowing how rare it is to get these three generations of Ford GT together I carved out a 30-minute window to let the entire company view the cars. Turnout and reaction is what you would expect. Lots of excitement, smiles and questions I enjoyed answering.
Then it was off to shoot video and photos. Our time with the 2017 car was limited and we had a tight schedule to get it all done. We used the Ortega Highway between the 5 Freeway and Lake Elsinore, plus a relatively deserted road just off Ortega Highway, for the bulk of our shooting. Two other Kelley Blue Book Editors joined in the driving "chores" and we each took a car as our official ward for the purposes of promoting one GT each, but we also all drove all three throughout the shoot to ensure full knowledge of each cars' characteristics. As mentioned, we didn't screw around. Having photo permits and police escorts meant uncompromised shooting and driving. :thumbsup
"My" car was the 2005 for video story-telling purposes, but I got plenty of seat time in the new Ford GT -- much more than during the press event I attended last year in Utah. And that's really the crux of this post. I know more about the new Ford GT, both individually and in relation to the other two generations, than I did 3 days ago. I'm guessing plenty of people on this forum already know the differences between these cars, but hopefully enough people benefit from what I'm about to say to justify slogging through this post.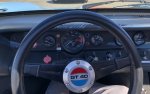 First, the original GT40 is a monster in every sense of the word. It weighs around 2,300 pounds but Superformance will configure them with anywhere from 500 to 1,000 horsepower. The one I drove last year for Forbes had around 550. The one we had for this test was closer to 700 horsepower. You can do the math on the power-to-weight, but suffice to say it's scary-fast in every sense of that word. It's also loud, unfiltered and requires a learning curve to make sure you hit the right gear (dog-leg transmission). Also, don't forget to turn on the cooling fans (don't ask how I know...). I'm probably too old to really want a car like this anymore, but getting to drive it for awhile is definitely a treat.
For the 2005 versus 2017 things get much more interesting...
I went into this test expecting the new car to stomp the 2005, and (as we all know) in terms of pure capability it does. BUT -- getting to drive them both, aggressively, back-to-back on a (closed) public road was quite revealing. Initially, I was shocked to discover the 2005 felt -- dare I say it -- more fun to drive than the 2017? Was that possible? My rational brain kept second-guessing what my emotional brain was saying. Maybe it was just the increased familiarity with my 2005, right? Maybe it was just my inability to really explore the 2017 properly, right?
Actually, that was exactly the issue. Remember, I said "initially" the 2005 felt more rewarding to drive. This was as my learning curve on the new car was still curving. I already knew how to get the most out of my GT. My experience, over a year ago, with the 2017 GT was limited to track time and a bit of on-road time (on non-closed roads...). And, honestly, I was learning both the track and car back then. Put that together with the car's value and I was leaving A LOT of reserve on the table at Utah Motorsports Campus.
But this week, after getting so much quality time in the new car, my experience and confidence kept growing throughout the shoot process. By the end of the shoot, when it was time to head west on Ortega Highway to meet the Ford press fleet folks and hand off the keys, my understanding of the new GT was complete. And, as fate would have it, Ortega Highway was uncharacteristically clear. The new Ford GT's looks help, as normally oblivious California drivers will actually pull over(!) when they see that car's front end coming up quickly behind them.
What I realized on that drive back was that the 2005 Ford GT's magic is readily accessible on a public road. The sound of the V8, the perfectly precise-yet-meaty feel of the Ricardo shifter, the ultra-wide torque band (especially if you have any power upgrades...), and the intuitive steering make the car a joy at any speed and driving level. The car gets more fun as your speeds and aggressiveness increase, and as a combination Grand Tourer and rewarding track toy it's pretty amazing how well the 2005-2006 hold up 13 years later. The other two editors that drove all three generations were convinced it was the best balance between the original's visceral experience and the new GT's technological experience. Until my final drive back in the new GT I couldn't really argue with them.
Now, I have plenty of good reasons to not go into details about the drive back (feel free to ask me about it the next time you see me), but my final assessment is something I'm happy to share. The new Ford GT is without a doubt the most capable street-legal car I have ever driven, but if you don't drive it to a certain level it's difficult to appreciate what it has to offer. The confidence it inspires allows it to do things other cars simply can't do. The downforce. The braking. The steering feedback. The suspension modulation. The traction/stability control tuning. Each is perfect in a vacuum, and each is perfectly matched to the other. That's as close as I can get to describing it, and it doesn't come close to describing the emotion I had by the time I pulled onto the 5 freeway for the final leg back to KBB.
I've driven a lot of very capable cars over the past 25 years. And as a current 2005 Ford GT owner as well as a galactically-lucky new Ford GT recipient it's easy to call me biased. Maybe I am, but I'm super impressed with Ford's ability to create a car like this and I'm elated I get to own one some day.
Last edited: