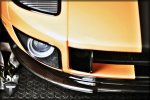 Tecnocraft Ford GT Dry Carbon Front Splitter / Diffuser
The Tecnocraft Composites pre-preg carbon front splitter/diffuser is our signature design element for the Ford GT. Made to withstand speeds of 200+mph, the Tecnocraft front Splitter/diffuser is a honeycomb reinforced pre-preg carbon fiber masterpiece that's strong enough to run the fastest tracks anywhere in the world. Designed to increase frontal down force resulting in better tire grip, we made this front splitter/diffuser to take the harshest of road conditions and improve the looks of your Ford GT. Utilizing factory mounting points, the installation of this piece is a simple process and can easily be reversed if you feel the need to turn your car back to stock form again.
Tecnocraft on the Ford GT program
Produced to the highest standards, The Tecnocraft Carbon fiber program is very different from most other Carbon Fiber products available. Made entirely of Pre-Preg Composite, our carbon fiber pieces are often described as "artwork for exotics." Our highly skilled team of fabricators and designers pride themselves on the years of experience building trophy winning race cars in prior lives and being able to apply it to everyday road going exotics here with Tecnocraft. With a strong team of former professional race car fabricators, you can expect Tecnocraft to give more consideration to weight reduction and strength than pretty much anybody else in the industry. Everything made here at Tecnocraft, is 100% made here in the USA.
The Tecnocraft Ford GT carbon program is unmatched by anything offered by the competition. Using the best pre-preg carbon fiber materials available, Tecnocraft only produce pieces to the highest standards. The Ford GT is a truly exceptional vehicle. In our opinion, the Ford GT is one of the best cars to be born out of Detroit. A vehicle with such a strong racing heritage deserves nothing less than the best available pre-preg carbon fiber.
PM FOR SPECIAL FORD GT FORUM PRICING​