GT Owner
Mark IV Lifetime
Hey Guys,
I'm selling a set of standard Ford GT wheels (no center caps or lugs) with factory Goodyear F1 tires. The wheels served track duty one time about 10 years ago. They aren't mint but they are very clean with a few scuffs picked up over the course of storage during the past decade. The tires are also about 10 years old, with the fronts showing plenty of tread life and backs showing plenty of wear.
I'm also selling a set of Hoosier slicks that were used once 10 years ago. They have plenty of rubber left, but you might be frightened by the age. They still look and feel supple.
All of these tires and slicks have been stored in a garage, out of direct sunlight, in Southern California.
Finally, I have a set of NOS Ford GT belly pans (3). 5G7Z-6310535-A, 5G7Z-6310534-A, 5G7V-11838-BA
They've been stored indoors and are like new.
I'm asking $2,000 for the wheels (with tires), $500 for the slicks and $750 for the belly pans, or $3,000 for the whole kitten-caboodle.
Located in Irvine, California. Can deliver between Los Angeles, San Diego and the 215 freeway. Otherwise you gotta come get 'em or pay to ship 'em.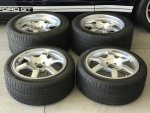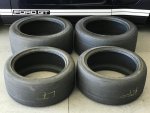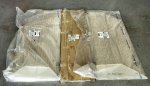 Last edited: