GT Owner
Staff member
Mark IV Lifetime
Le Mans 2010 Supporter
Gentlemen,
I am so excited about Ford GT National Rally XIII that it's hard for me to sleep at night. Dave and I have worked our asses off for the last six months and it's going to be spectacular. I promise everyone who attends a fantastic time driving through some of the most beautiful scenery on earth during Arizona's world-famous November weather and memories that will stay with you the rest of your life. No great adventure, no lifetime highlight, no amazing experience ever began with somebody saying, "I'm not going", "I'm too busy", "I'm afraid of whatever", or worst of all, "I don't want to put any miles on my car". SCREW THAT!!!!! It's time to be cool again. Strap in, fire up, and let's roll!!
If you have a chance to attend this Rally and you don't come you will certainly regret it when you see the pictures and watch the video. There will probably never be another Arizona Rally so you've got one shot at this. Don't blow it!
Although the rally doesn't officially begin until Halloween night, October 31 at the Otto Car Club the real start to Rally 13 will be on Saturday, October 30 at Beck's Landing so I'm going to start this schedule of events there......
October 30 - 3 PM to 7 PM - Rally to Rally 13 Party at Chip's house. Most of you have been to parties at Beck's Landing before. BRING YOUR GT!! 80 to 100 Ford GT's will be at my home watched over by a Scottsdale police officer and an attendant. Staff will assist with self parking GT's and valet parking staff will park non-GT's for you. Open bar staffed by Scottsdale's finest bartenders, great food catered by Honey Bear's Barbecue, live music, beautiful mountain scenery, and several VIPs plus a few surprises to keep you entertained. Raj Nair, Craig Jackson, Harley Cluxton, Garen Nicoghosian, and everybody else who matters will be there. If you're attending and haven't posted up on my Rally Party thread do it now. All Rallies west of the Mississippi start at Chip's house, be there or be square.
October 31 - 7 AM - Depart from the Hyatt Regency for a private cars and coffee in Old Town Scottsdale at Four till Four Coffee. Four till Four is a famous car friendly destination for automobile enthusiasts in the heart of historic Old Town Scottsdale.
October 31 - 7:00 PM - Official opening night cocktail party and hors d'oeuvres at the incredible Otto Car Club. You've never seen a car club or facility like this. A number of executives/drivers/engineers from Multimatic & Ford as well as historic Ford GT race cars from the 1960s and race GT's from 2016-2019 will be on site. There is more but you'll find that out when you get there.
November 1 - 8-8:30 AM - Depart from the Hyatt Regency for a short drive to the Town of Fountain Hills for a Ford GT Cars, Coffee and Donuts by the Lake containing the world's tallest fountain. Forum member Speed Demon has sent the finest Donut Truck in all of Alburquerque, New Mexico from his store
Glazed Grinders
to serve coffee, donuts, lattes' and more.
November 1 - 11 AM - Depart from Fountain Hills for a 90 minute road rally past Saguaro Lake headed for the world-famous Apache Trail in the mountains where Geronimo eluded capture by the United States Army for years. The last 20 miles of this road rival the Tail of the Dragon. At the end of the pavement you'll turn around and double back to the old west buildings at Tortilla Flats by Canyon Lark where you can stop for lunch if you like or head straight back to the hotel.
November 1 - 7:00 PM - Evening - Rally Dinner at the Hyatt Regency. Special Ford GT Team Guest panel moderated by Forum Member and Auto Industry Expert Karl Brauer.
November 2 - Morning - Road Rally Day - Depart the Hyatt for a drive up the Beeline Highway through the Tonto National Forest to the town of Payson, Arizona where lunch will be served at Fargo's Steakhouse conveniently located right next to Payson Chevron/Rim Liquor! After lunch we will continue on a very scenic drive through Pine and Strawberry on the Zane Gray Highway to Camp Verde and then climb higher into the mountains and through the old gold-mining town of Jerome. Incredible roads and amazing scenery.
November 2 - Evening - Short cocktail party to reflect on the days events on the terrace overlooking the lake and the golf course at the Hyatt Regency. Prior to last year's shut down genuine Italian Gondolas with singing gondoliers traveled these waterways. I hope they bring that back someday.
November 3 - Morning - Track Day at Apex Motorsports Park. Several GT Mk II's are being brought out by Multimatic along with one of the race cars. Beginner, intermediate, and expert sessions will allow you to test your mettle in a safe and comfortable environment on one of the best new tracks in the Western United States. Instructors will be on hand for those who desire them and lunch will be served at the track. Wives/girlfriends who don't wish to go to the track can go to a cooking/wine drinking class or head to world-famous Fashion Square with their significant others credit cards.
November 3 - Evening - leave your GT in the covered parking garage and hop on a deluxe motor coach for a ride out into some of the most beautiful semi-arid lush desert scenery you've ever seen for an evening in the desert. Cocktails, music, and great food will make for final evening you'll never forget. Strap on your Colt Peacemaker in case you need to settle the score with an angry rattlesnake or an unruly fellow rally attendee.
November 4 - Bug Out Day - Get up, have breakfast, say goodbye to your good friends, mount up, and get the hell out of Dodge.
There's more of course but I can't list everything. All the best.
Chip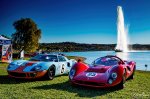 Last edited: