GT Owner
Mark IV Lifetime
I've got an original set of Ford GT seats I purchased as back-ups about 10 years ago. They've been safely triple-wrapped in cloth in climate-controlled storage ever since. I've decided to sell them, even though they are in better shape than my original 2005 Ford GT seats. Why not swap them and sell my originals? Because the patina on my car's seats matches the rest of the car (we all know what happens once you start putting new parts in a vehicle...).
I would call these near mint but I have detailed the flaws I found today while photographing them. I can say this with confidence: if 20 years from now you're on the 18th green being judged for your 2005-2006 Ford GT you might lose some points, but not from these seats.
I'm asking $9,500 for both, and here's the catch: NO SHIPPING.
I'm in Southern California near Irvine where the 5 and 405 come together. If you can't meet me in the Southern California area for the hand off you better have a friend who can. I'm not willing to deal with packaging, insurance and tracking numbers. These seats are too large, weirdly shaped, valuable and delicate for me to wrestle with getting them to you safely. You have to come get them from me.
PM me if you want to arrange payment and pick-up. Also, no shipping.
Did I mention no shipping? Okay, just making sure. Because, you know, no shipping.
Driver's seat:
There is a tiny scratch on the lower front of the driver's seat. You'd never see it with the seat installed unless you crawl down in the footwell (and bring a light). There's also what I can only describe as a section of discoloration on the outer lower front corner of the driver's seat. It looks like a scuff but is smooth to the touch. I think maybe a leather expert could remove the discoloration but I'm not an expert and don't want to mess with it. Like the scratch, you'd never see it with the seat installed until you're down near the door sil looking closely at the front seat corner that faces the kick panel.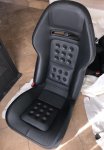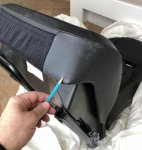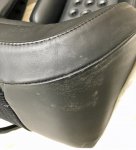 Passenger's Seat
There's a tiny dot of gray in the middle-rear part off the seat bottom. It's really small but if you look close you can see it. There's a similarly tiny gray spot on the ribbing on the outside part of the seat bottom. Both of these items could have been there when the seats were new. Not sure how they could happen from use and, again, they are tiny (pencil used to show scale).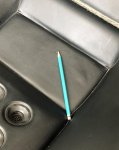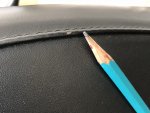 Last edited: