GT Owner
Mark II Lifetime
Wow! What an awesome automobile. I am so thankful for being selected to purchase it. Kevin Koshkarian from Pat Milliken Ford and my GT Tech, Steve Coates were on hand for the delivery. It was a memorable experience of a lifetime.
it was great to spend some time with two great car enthusiasts. The delivery was fun and very thorough. Steve did a fantastic job explaining the car.
I want to thank Ford, my GT Concierge, Sean, and Pat Milliken Ford for all the help they provided. Along with Kevin and Sean, I was taken care of by the best team.
Next up is PPF and windshield protection then on the road.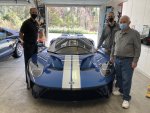 Last edited by a moderator: