GT Owner
Mark II Lifetime
Complete set of Ford factory OEM BBS 10 spoke rims painted by The GT Guy come complete with factory center caps and half used Hoosier R7's on the front and Hoosier R6's on the rears.
I no longer need them as I've sold my car.
And for those who have never tried Hoosiers have no idea what you're missing!!!
Better than blowing $$$ on horsepower and the black rims make the car look nasty.
At this price consider the painting and the tires as bonus.
New price $5,300 plus shipping.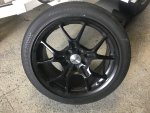 Last edited: