GT
Mark IV Lifetime
Le Mans 2010 Supporter
As most of you know If you get CF wheels and you go to base Wheels the extra long studs need an open lug nut or something special. Now there's a stylish option.
As some of you know I went SEMA with ADV 1 Wheels. They had to contend with this issue. Since this is a highly visible trade show they didn't want to have some ugly open lug nuts and expose studs so they came up with this elegant solution. One of the subsidiaries of the main company is Tikore titanium products..
They created this extra deep security lug nut out of titanium , very stylish comes with a pentagon safety key...
I just got my backup set of Base Wheels so I did a test fit. They look great! Attached is Charlie Fallon's information if you're interested in

3/6/19 Charlie is no longer there. They also made me a set of open lugs
a set..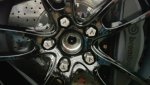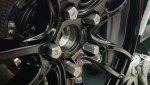 Last edited: