Gents -
After having been given the great opportunity for a special edition GT spot - and after much hesitation - I am reluctantly putting my new Dodge Demon for sale. I ordered it in this admittedly awesome Indigo Blue color and configuration and I am the original owner. They were/are really hard to come by, and if it wasn't for DoctorV8, I wouldn 't have found one. Mine is brand spanking new, as my recently crazy schedule hasn't given me the chance to drive it yet. Rolled off the delivery truck right into my garage not too long ago, and put right on the trickle charger. I was advised by another member (DakotaGT) not to drive it without clear bra, and just haven't had the chance - hence no miles beyond delivery .
Unlike most for sale, I have the giant 250 plus pound unopened 'Demon Crate' and cover, every paper, tag, box and widget that came with the car from new. There isn't a mark on it.
After a little looking around, I think at asking $120k OBO, it's the best priced one out there. Of course, clear title is in hand.
If it weren't for the special edition slot, I honestly would keep it.
Please PM me if serious.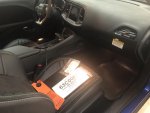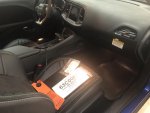 Last edited: