*UK Support*
Supporting Vendor
This is in my personal collection of Ford GT items I've gathered over the years but it's not getting worn enough.
These watches were made exclusively for Ford of Switzerland in 2005 when the 101 European Ford GTs were delivered. This example is serial number 42 of the 101 made. The face is in Midnight Blue with white stripes. It's fairly subtle, as is the Ford logo on the second hand. Beautifully made and in very good condition with little wear. It has the original carbon strap and case it was supplied in. The watch case is made from an unusual alloy and it quite weighty but not particularly large. The case is 1 5/8" diameter (excluding the crown wheel).
These sold for $6500 in 2005/6. I would like to get $4800 for this one.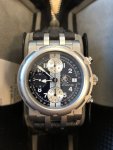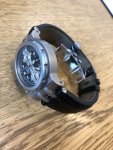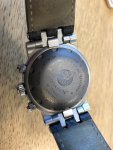 This is what was said about the watch when it was on sale:
The signature of a passion in materials
The Aviatex Watch is dedicated to absolute performance, combining extreme resistance with aesthetic. In addition, the material used for the case and the bracelet presents the best acceptance by the skin because of its non-irrating properties.
Each piece is made in Switzerland -everything from dials to srews and springs.
The material used for its design is a super-alloy. Super-alloys are metallic composites including a wide range of specific metals amongst which the cobalt and the chromium. The watch-case is meticulously sculptured out of one piece of this material. Mainly due to the presence of cobalt in the material, the acceptance by the skin is exceptional, in particular in terms of anti-allergic caracteristics.
This case is made to protect the movement and to have a style of its own. It is not only a solid, heavy, robust and confidence-inspiring super-alloy part but also a filigree masterpiece of metal processing and surface refinements.
Features
Screw-down push buttons to guarantee high water resistance
Scratch-proof sapphire crystal face embedded and compressed between two watertight joints, acting as shock absorbers
The hardness of the case is about threefold that a case in steel;
Finishing and polishing are entirely manual for watch-case and bracelet
Water resistance to 200 meters (656.17 feet)
Fitted with a ultra-resistant mechanical movement Valjoux 7750
- Automatic Mechanical Chronograph movement
- Indication of hours, minutes, seconds and dates (at 3)
- Power reserve 44 hours
- 25 jewels
- 28'800 vibrations per hour
Mainly due to the presence of cobalt in the material, the acceptance by
the skin is exceptional, in particular in terms of anti-allergic caracteristics.
Switzerland is famous for watch makers. Aviatex is a small company, but parts are made from the all well known movement makers in the Jura region. The watches are put together, one by one in the Geneva region, in Nyon.
The cobalt case is 7 times tougher to scratch, then steel.
The Indestructible Aviatex Watch
Aviatex is a standout in the world of watchmaking not only for its superior Swiss origins, but for having mastered the manufacturing techniques for an alloy which has the reputation of being impossible to machine. Their limited edition watches are highly sought after for their superior workmanship and almost indestructible dependability.
Craftsmanship of Aviatex Watches
Rocket Ariane and jet fighter engines are produced of the same super steel alloy as Aviatex watches. That should tell you something. The alloy's exceptional hardness, seven times that of stainless steel, is not only highly scratch-resistant but also corrosion-free. The "heart" of each Aviatex watch is hardened to prevent deterioration by a special vacuum tempering process. In addition, a watchcase with a screw-in case back makes for undeformable housing. As a last touch, every Aviatex comes with a deployment buckle that has a double safety-clasp. water resistance to 200 meters.
The Technology of Aviatex Watches
Inspired by no less than the portholes of nuclear submarines, the technology behind the Aviatex watch is splendid. The sapphire crystal watch face, scratch-resistant to begin with, is embedded and compressed between two watertight joints that act as shock absorbers. All Aviatex watches are fitted with ultra-resistant mechanical movement Valjoux 7750, or high-precision quartz. The tachymeter integrated in the dial permits calculation in km/h of the speed of an object over a certain distance. All Aviatex chronograph watches come with screw-down push buttons to guarantee water resistance to 200 meters.
Characteristics of Aviatex Watches
Aviatex's product has emerged out of the field of high-end metal refinement, once reserved for the military elite but now available to the public. The Aviatex Military Professional Chronograph with its matte-finished casing and notched bezel has a high-contrast red dial that ensures high visibility. The Aviatex Professional Chronograph and Technology Chronograph are two further examples of the highly evolved, sophisticated manufacturing and styling that make Aviatex top in its field.