GT Owner
Mark IV Lifetime
As you may have already heard, there was a tragic mid-air collision yesterday November 12, 2022 involving a Boeing B-17 and a Bell P-63. While the loss of life is paramount, the loss of these two aircraft are nearly as devastating.
The P-63 was the last airworthy one of its kind and the B-17 was the last of a few. This incident hits me especially hard as I've flown in that plane, rode in the Bombardier seat, and learned about many of it's specific details while on board.
The crew was extremely passionate and dedicated to keeping "Texas Raiders" airworthy and regaled us with stories of how they would scour parts wherever they could find them. We shared some special moments when I showed them some behind the scene photos of the "Swamp Ghost" B-17 which was shot down in the pacific, spent 60+ years in a Papua New Guinea swamp, and more recently hidden in a Ford Field hangar at Pearl Harbor. The knowledge lost from this is immeasurable and the task of keeping these old birds aloft grows more difficult.
We're all gear heads on here, and the passion from cars, racing, and their history naturally extends to the skies. Please take the time to read up on them and if your interested, help support their efforts.
Papua New Guinea has seen its share of plane crashes, as well as its share of war buffs hunting for -warbird- wrecks.
aviationoiloutlet.com
B-17G Flying Fortress *Texas Raiders* is one of the most recognized and popular warbirds currently flying. The United States built 12,731 B-17s and today only five are actively flying. *Texas Raiders* was the first Flying Fortress acquired solely for the purpose of restoration and use as a...
commemorativeairforce.org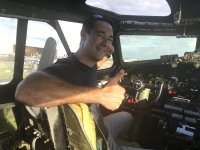 Last edited: