GT Owner/Vendor
Mark IV Lifetime
I love this car but don't really get to enjoy it like I should. I was lucky enough to see this unveiled by (Ray, Rich, and Dennis) at the New Orleans Rally (as many others did too) and when it came up for sale 2 years ago I grabbed it.
Link to this history of the car :
(21) PRESS RELEASE - Presenting the new RH Motorsports GT1-S and GT3-S production cars | The Ford GT Forum
Pictures
https://photos.app.goo.gl/nNVHipepmgUS8t5e6
3400 miles
Mods :
Pulley and Tune
GTG Intake
GTG X pipe
Rear Bumper Delete and license plate relocation
Alcantara Seats and steering wheel
Door Inserts and matching Floor mats
Anrky Wheels and Pirello P Zero Tires
Also includes the original front bumper cover, front fenders, Airbox, Manual, TB. Car Cover, and Charger.
Any Questions let me know.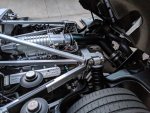 Last edited: