GT Owner
Mark IV Lifetime
As I mentioned in the marketplace section, I sold my 2005 Ford GT yesterday. If you watch YouTube at all you have probably heard of Doug DeMuro. He's a genuine car guy and successful enough that my 18-year-old daughter knows him (my current yardstick for how young people attribute fame, since I'm old and totally out of touch now...).
I'd expect to see Doug join the Forum shortly and potentially be looking for guidance, though he's less than 100 miles south of me in San Diego and I hope he calls me with any questions. You can see a short (102-second) video I put together from the transaction yesterday, including a quick look back at my 13 years, 31,000 miles in my 2005 Ford GT.
http://www.karlbrauer.com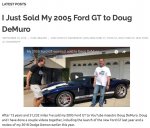 I've bought and sold at least 40 vehicles, if I include motorcycles, over the past 34 years. Most of them I let go when I was fully ready, with zero regrets at the time or since. But my Ford GT joins an elite group, with my 1970 Dodge Challenger R/T SE (440, Plum Crazy, all original and loaded with options) and my 1990 Honda RC30 (less than 10,000 miles, also all original and unmodified, making it very rare) as the three vehicles I had to let go for financial reasons, not because I wanted to or was ready to wave goodbye.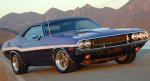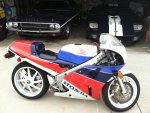 BUT -- I have locked my order and sent my 50% deposit to Pat Milliken Ford for a 2019 Ford GT, which makes seeing my 2005 GT drive into the sunset with Doug a little easier. Also, I told Doug that, depending on finances and other circumstances, I might be banging on his door to buy that car back in the next few years.
Last edited: